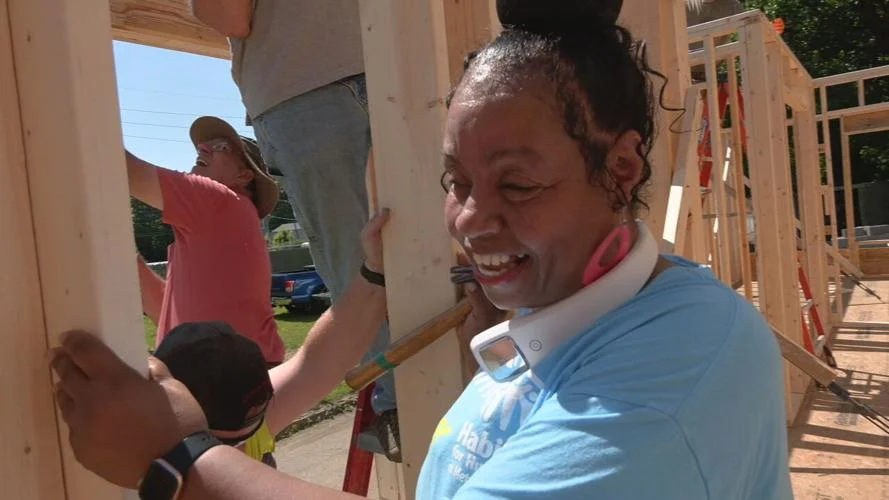 LOUISVILLE, Ky. (WDRB) — The Louisville faith community worked with Habitat for Humanity to build a home for a Louisville woman. 
The volunteers worked out in the summer heat, sawing, measuring and hammering, all to build a home for Angela Young.
"I thank god they're here to teach me how to build a house, my house," Young said. 
"Thank you Jesus," she said Thursday. "It's like winning the lottery, but this is more than the lottery."
Young's new home will be a lot closer to her work and only two blocks from her church. 
 "I wanted something to be mine for my children and grandchildren," she said. 
Rob Locke, chief executive officer at Habitat for Humanity of Metro Louisville, said there is no more affordable way to own a home than through Habitat for Humanity. 
"Angela's enthusiasm for the project for life itself is contagious," Locke said. 
The group of volunteers building the home call themselves the Holy High Five, a name derived from the five churches that work together in the Highlands. The "Holy" part came in when Holy Trinity joined the crew. Together, they have built 10 houses with Habitat for Humanity.
Young said without the Holy High Five, none of this would've been possible.  
"This is a dream come true," she said. 
Young said that she plans to welcome back the volunteers when the house is finished with coffee and donuts. 
https://www.wdrb.com/news/louisville-faith-community-building-house-for-woman-with-habitat-for-humanity/article_8e520d22-00b4-11ee-ba99-333ca2dfcb5f.html