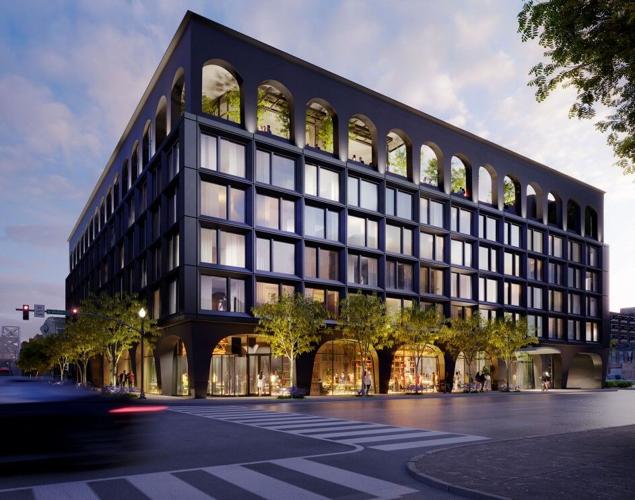 LOUISVILLE, Ky. (WDRB) — An empty lot at 2nd and Market streets in downtown Louisville has turned into a full-blown construction site as work on the new Canopy Louisville by Hilton presses forward.
Work on the $60 million project has been in talks since 2018. NuLu-based Zyyo is the project co-developer.
The six-story hotel will feature 170 rooms with floor-to-ceiling windows. The height of the building was carefully planned to not cast shadowing on the facades of Whiskey Row.
The hotel will feature a large courtyard and a 6,000-square-foot rooftop pool and bar. Room rates will fluctuate depending on the event and season but will average between $250 and $300.
The amenities planned combined with the price makes for a combination that developer Nick Campisano said is perfect for the downtown location.
"What we love about this corner is that is adjacent to the convention center and also adjacent to Whiskey Row and Yum," Campisano said Monday. "So you have a critical intersection between 2nd Street and Market, and that is going to draw people from southern Indiana from western Louisville and also from NuLu."
The hotel project is expected to open in May 2024.
https://www.wdrb.com/news/business/new-renderings-show-planned-60-million-hotel-at-2nd-and-market-streets-in-downtown-louisville/article_60730364-e2d4-11ed-8e4d-cb4bd7ce9dda.html?fbclid=IwAR2tepA_s-Wj1BkahL5kqm6lmSkqYJu_0BAscWoC-nqWbR04207wfOa-csI