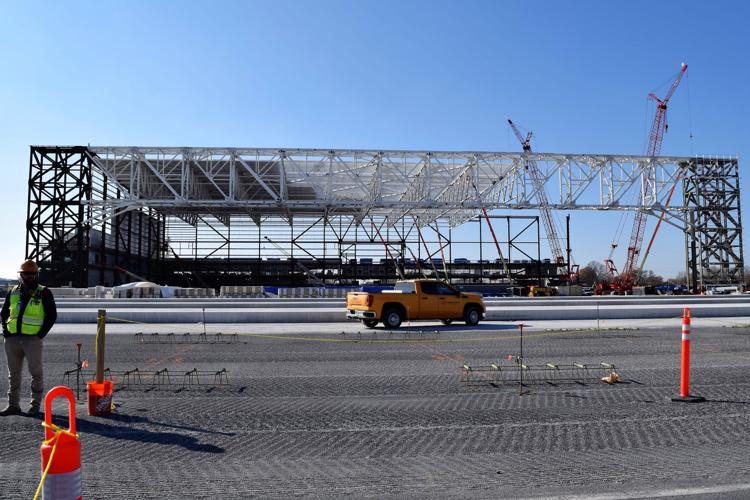 LOUISVILLE, Ky. (WDRB) — Framed before steel beams rising 120 feet in the air, UPS executives and Kentucky's top elected officials congratulated each other Monday on a series of capital projects the company has undertaken or announced in the last five years.
The steel frame towering over the Watterson Expressway near Crittenden Drive are part of a $220 million aircraft hangar that will be completed later this year. The 275,000-square-foot garage, first announced in 2018, will have space to hold two of UPS' Boeing 747-8 aircraft, the largest and most efficient cargo plane on the market, UPS officials said.
Atlanta-based UPS, the largest private package carrier in the U.S., maintains its global air hub at Louisville Muhammad Ali International Airport, with hundreds of cross-country and international package flights coming and going each evening. The company has 28 of the 747-8 aircraft in addition to 13 of the 747-400, the earlier model.
The company is Louisville's largest employer by headcount, with more than 25,000 local employees.
Executives also touted a plan disclosed last month to expand its healthcare operations with new warehouses that will employ more than 400 people.
Those facilities are part of the company's Supply Chain Solutions division, in which UPS houses and ships products for other companies. The new Supply Chain Solutions warehouses will primarily handle prescription drugs, said Warren Olson, vice president of operations for UPS Healthcare.  
"They are regulated products that are critical to a patient's health. So it is critical that we maintain control of these products, both from a temperature perspective and a quality control perspective with full traceability," he said.
On Monday, UPS added that it will spend $78 million to double the size of its aviation training center in Louisville, adding four full-motion flight simulators for a total of eight.
Democratic Gov. Andy Beshear, who will make economic development a pillar of reelection campaign next year, said the UPS announcements are another step forward for the state under his watch, which also includes landing Ford Motor Co.'s planned electric-vehicle battery plants in Hardin County.
Kentucky House Speaker David Osborne said UPS' continued growth is the fruit of Republican policies that the state has enacted, including cutting corporate and personal income taxes. Republicans took complete control of the state legislature in 2017.
"Obviously, UPS' presence here in Louisville has been much longer than that, but these expansion plans, I think, have coincided in large part with the pro-growth, pro-business policies that were put in place since 2017," Osborne said.
https://www.wdrb.com/news/business/ups-touts-louisville-area-growth-projects/article_5404a402-6467-11ed-a97d-abdf82611821.html